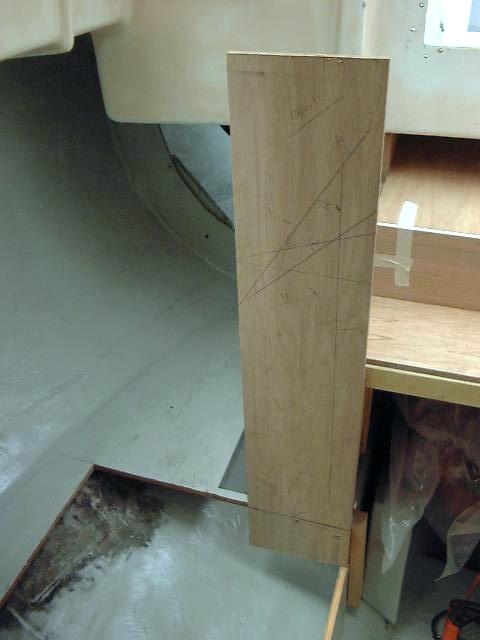 One effective way to make a pattern of the curvature of the hull for cutting a new bulkhead is to use a tick strip. This consists of a narrow (3/4" or 1") strip of wood, cut to a roughly appropriate length, and a piece of plywood, cardboard or even paper.
First, cut a point on the end of the narrow strip of wood. This will act as a pointer, essentially.
Next, attach (as necessary) the plywood/cardboard in a location marked for easy reference. In the photo at left, the plywood is screwed in place with the right vertical edge representing the inboard end of the new bulkhead, and the bottom representing the bottom extent.
Now, lay the tick strip over the plywood, and place the pointer against the hull in any of a number of positions. Draw a line on the plywood using the tick strip as a guide, and make a mark on the plywood and tick strip at any random location along the line. Label the mark "A" in both places. Continue this procedure until you have as many different marks as needed to give you an appropriate guide for layout later. You may add additional marks ("B", "C", etc.) as necessary in order to transfer the dimensions. You will end up with a board that looks somewhat like the one above, with several different lines drawn at all angles, with little lettered tick marks.