Bringing Her Home
August 24, 1999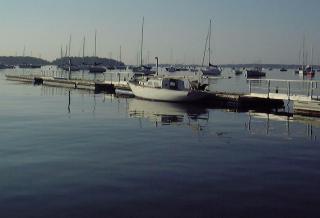 After our long, anxious night aboard, it was a relief for morning--and our scheduled haulout--to arrive. We had scheduled Richardson's Boatyard for 1000 to pick the boat up at Falmouth Town Landing. We've used them for years to haul a number of boats, and they are always reliable, on time and friendly.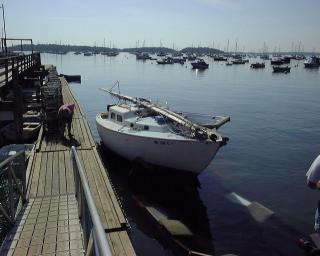 The truck arrived right on time at 1000; we had moved the boat from PYC to the neighboring Town Landing ramp 45 minutes earlier. Of course, by now the inflow of water had slowed to a trickle, and in the time since we unplugged the pump at the PYC dock the water level in the bilge had risen only a couple inches. If only that had happened last night!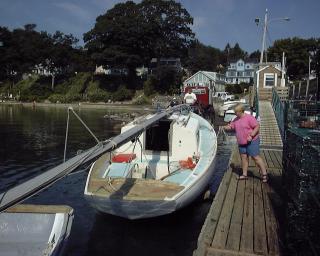 Richardson's uses a detachable hydraulic trailer, manufactured by Brownell Systems, to haul and launch boats directly from the water on any launching ramp. Loading the boat was smooth and easy; there was no wind or sea, and it was easy to maneuver the boat onto the trailer with the help of PYC's workboat and lines from the dock. Soon, the boat was properly supported on the trailer, and we untied the workboat and headed back to PYC where our vehicles were, so we could meet the truck at home for unloading.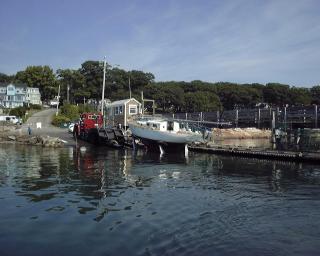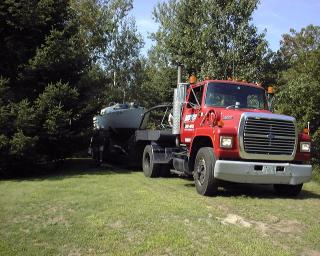 Soon, the truck approached and skillfully backed the boat past the garage to her new home (for the next 16 months or so, anyway)--a far nicer place, I think, than where we rescued her from. Unloading took about 15 minutes; they blocked under the keel and supported her with five jackstands. Although I've witnessed it many times, I continue to be amazed by the capabilities and convenience of the hydraulic trailer.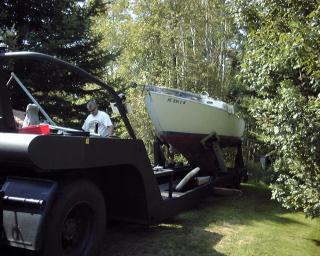 Soon, all was quiet as the truck pulled away, and we were left with our new boat and to scratch our heads and wonder if we're crazy or not...(I already know the answer!)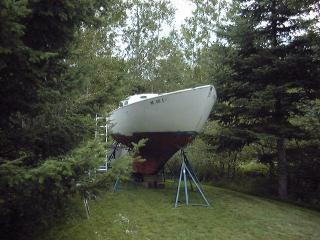 First order of business was to remove the mast from the deck and get it out of the way, which I did alone by slowly pushing it astern till the masthead touched the ground, and then lowering the base with lines. I huffed it up onto a couple sawhorses for the time being. Then, all the gear, junk, trash was removed from the boat--everything remotely movable--in preparation for initial cleaning. It's amazing how much bigger the boat seemed inside when it was empty. I gave the whole boat a quick washdown with fresh water (no soap yet), removing a fair amount of interior paint, spiders, fiberglass dist, loose nuts and washers and other junk in the process. Felt much better. Next step: throwing out all useless stuff and taking inventory of what gear was aboard and worth saving. Conclusion: not much, unfortunately! Some standard deck hardware, two sails, and a modicum of other gear.