Refit: Winter 2008-2009

Winter 2008-2009 Refit | Sunday, May 17, 2009

The real work came to an end early this month, and after I moved the boat outdoors there was little more to do beyond the typical pre-launch preparations.

The first weekend the boat was outdoors, I test-ran the engine. The engine cranked and fired immediately, as always. However, the raw water pump impeller couldn't seem to prime itself, the result being that no cooling water was pumping through the system. After giving it a reasonable amount of time to self-prime, I shut down the engine, double-checked the pump to ensure the impeller was still in good condition (it was), and then primed the temporary intake hose that I had run into a bucket of water. While I was at it, I re-checked the engine oil level and added a bit to make up for the new filter.

When I restarted the engine, the impeller drew water with no trouble, and I ran the engine for some minutes to bring it up to temperature, test the charging system, and so forth.

A couple weeks later, I loaded the boat onto my trailer and moved her over beneath the gantry crane so I could load the mast back on board. This was uneventful, though the perfect center of balance for the spar eluded me, causing it to come up at an angle.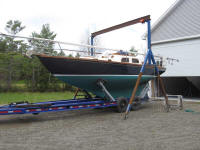 With the mast back on board, I spent a few hours one day restringing the halyards and attaching the rigging wires to prepare the mast for stepping. Finally, I secured the mast and boom to the boat for transport.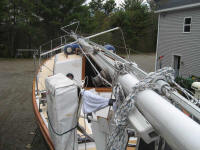 Meanwhile, I loaded the boat with sundry gear and supplies, taking advantage of the convenience of having the boat here rather than lugging it all out via dinghy, which I did last year--and learned my lesson.

Mostly, during May I twiddled my thumbs and waited to launch the boat.