The Gooseneck (Page 3)
This page was last updated on 26 August 2004.
<Back to Page 2

Two days before departing on a 4-week cruise, I received a call from Metalmast: the new boom was done. Since there was no time to arrange to pick up the boom before our departure, I asked Claude if they would please store the boom for me, to which he readily agreed. Of course, I had to pay for the boom at that point, however.

The repair I had made using a stainless steel banding tool worked well during our cruise, with no issues. However, upon our return I quickly contacted Metalmast to arrange for me to come down and pick up the boom. I set the date and received driving directions; I had assumed that the company would be located on or near the coast, and was pleasantly surprised to find that it was in a northerly corner of Connecticut, just over the Massachusetts border, which greatly shortened the trip for me--and also made it look pretty painless.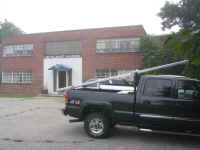 On the appointed day, I departed very early in the morning--0420--so that I could get to Metalmast upon their opening at 0700, and then return home with plenty of day remaining. Traveling early is always more pleasant for me anyway, what with less traffic and such. My trim down was uneventful, and I pulled up at Metalmast Marine just before 0700. I'm not sure what I expected, but what I found was hardly it: an old brick building fronted with a weedy parking lot, in a random neighborhood seemingly light years away from the ocean. Not to matter, though: after all, I prefer operations that lack glitz and pomp and circumstance. All that mattered was that they were nice to deal with (they were) and competent (which, as I found out as soon as I saw my new spar, they also were).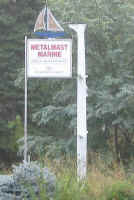 Inside, I met the very pleasant Dick, who was holding down the fort; Claude was on vacation, visiting his homeland. In mere moments, my boom appeared--it looked great--and soon I had it strapped to my truck outside. Turnaround was in record time. As I pulled back out into the street, a sign I had missed on the way in caught my eye; I don't know, but something struck me funny about this small sign, which proudly proclaimed this location to be the "world headquarters" of Metalmast Marine. A bit tongue in cheek, perchance?

The ride home was uneventful, and I arrived back home just after 1000.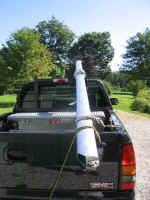 The new boom section was much larger than the skimpy original Triton spar, but also seemed to be lighter in weight; this was just a guess, as at the time I could not form a direct comparison. The new section featured a flat top, 1/2" foot groove, and cleanly tapered and welded end caps. I was pleased to see the welds displaying that "stacked coin" appearance that is indicative of a quality aluminum weld.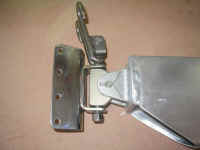 The mast end of the boom featured a new aluminum toggle, as well as the long-awaited mast gooseneck bracket, equipped with double reef hooks. Finally, a decent setup! Sheer laziness and complacency were the only reasons I hadn't done this much earlier, instead of dealing with Mickey-Mouse repairs to an aging, incompatible system in the first place.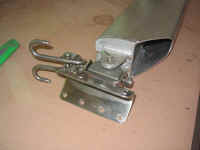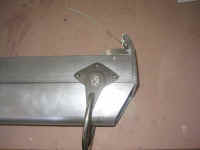 The after end of the boom featured a beefy mainsheet bail, a welded eye on the top end for halyard storage (or a supporting wire to the backstay), and a single sheave for an internal outhaul. I had chosen to maintain my external reefing lines, as I've never been fond of the way reefing lines led through the aft end of the boom work: they just don't pull the reef cringle down and aft enough to properly stretch the new "foot" of the sail at the reefpoint. Therefore, I elected to configure and install my own reefing hardware, which I expected to keep much the same as it was on the current boom.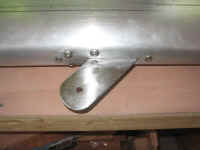 Finally, the boom came equipped with a boom vang tang, which was riveted in place internally in the boom. Just forward of the tang on the port side was a slot for the outhaul control exit; apparently, there had been a minor miscommunication during the ordering process (small wonder, given the dimensions, ideas, and issues being bandied about at the time), and there was a cleat installed just forward of the outhaul outlet. Since I run the outhaul aft to the cockpit for ease of control, this cleat was unnecessary in my case, so it was a simple matter to remove it, leaving only two small, threaded holes behind.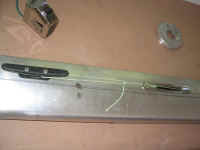 After some consideration, I had decided to go ahead and paint the boom with white Awlgrip. Now, if this seems like a small decision, consider that it is unacceptable, to me at least, to have a mismatched boom and mast, so the decision to paint the boom white also meant that I was committing myself to finally painting the mast white as well--something I had considered doing just about every year since before the boat's restoration was actually even complete. To begin preparing the boom, I removed all the hardware I could, including the mainsheet bail, some trim pieces, and the outhaul exit trim piece.

I planned to prepare and paint the new aluminum boom using the basic process prescribed by US Paint:
1. Etch aluminum with Alumiprep 33
2. Coat etched surface immediately with Alodine 1201 Conversion liquid
3. Apply proper sprayed coat of 30-Y-94 anti-corrosive primer
4. Apply Awlgrip topcoats (Snow White)
After confirming the materials and the proposed process, I ordered the supplies from my wholesale supplier, except for the Alumiprep 33, which I had in stock from 2001, when I first expected to paint the spars. The process I intended to use--for untreated aluminum surfaces in good condition, which required no fairing, and which would be located above the waterline--had the benefit (as well as the burden) of taking fewer than 24 hours (elapsed) to complete.
Please click here to continue.>