Showering and Water Consumption
This page was last updated on June 11, 2002.

With a small (23 gallon) water tank and room for only a few jerry jugs, water conservation is of course of prime importance--more so for convenience while cruising in the US rather than because of an unavailability of water, but still: who wants to spend their cruise filling the water tank? Not I, said the little red hen.
To that end, we have no electric water pumps on board--foot only--and try to use very little water for cleaning and such. The water from the tank is nasty, so we drink only bottled water or water stored elsewhere.
There is no room for a permanent shower on board, and the thought of making a mess of the head and cabin by showering there is just ridiculous. To overcome this, and maintain the requisite cleanliness, I read about a good solution in a cruising book: pump-up garden sprayer.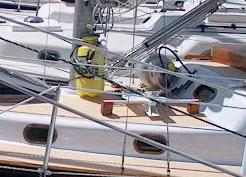 Available at hardware stores and home centers, these typically hold about 2.5 gallons and come with a hose and high-pressure tip with various spray nozzles. The sprayers are cheap and lightweight. Because the water is pressurized with a hand pump, the spray, while very fine, is also powerful, and a little water goes a long way. We store it strapped to the mast, out of the way till we need it. (sorry...this is the best picture I have at the moment.)
Use of the sprayer last year proved to be very effective, but the original hose was too short, and the sprayer wand too long. For 2002, I extended the hose with a 10' length, and removed the wand on the sprayer, installing the nozzle right at the handle. This should help out a lot.
We use the shower in the cockpit with an enclosure, or just spray off on deck after a swim to remove the salt. In this way, one can stay feeling very clean and fresh.
Perhaps the biggest pitfall of the sprayer-as-shower is that everyone who sees it as they pass by the boat ask what purpose it serves! But universally, people think it is a good idea.
To augment the sprayer for this year, we purchased a Sun Shower Safari version, which we plan to use with salt water. The plan is to heat 6 gallons of salt water for washing, which will give a luxurious shower, and then rinse off with the fresh water sprayer. With unlimited salt water at our disposal, why not give it a try?