Tools and Spare Parts
This page was last updated on June 2, 2002.
On-Board Tools Sockets Electrical Kit Fasteners and Rigging Kit Spare Parts
Maybe I obsess about this stuff. But I dislike nothing more than being in the middle of a job and discovering that I am missing some critical tool, part, fastener, or something that is important to the completion of the job. Plus, I like to be prepared for emergencies, on-the-spot repairs, and I would be happy to be able to help out a fellow boater in need because I had some little item that made a difference.
Therefore, I keep a comprehensive tool set on board, and don't hesitate to buy something new if it will fill out the inventory in a useful way. I am also building up my inventory of spare parts for most of the systems on board, most importantly the engine. When we leave on our cruise this summer, Glissando will be well stocked for almost any contingency.
I have a Rubbermaid plastic toolbox in which I keep most of the basic hand tools needed for on-board repairs and maintenance. The following inventory is, at this writing, off the cuff and not necessarily accurate or complete. Later, I'll get a better list of what's actually in the toolbox. A few of the items listed below are too large to actually fit in the box, so I store them elsewhere on board.
I found out that this toolbox was too tall to fit in the newly-created settee lockers, at least with the locker lid supports in place (which are permanent and necessary), so I ordered a couple smaller toolboxes to hold the tools instead. This will actually work out well, as I can put the most-used tools in one box and others, which are rarely used, in another box to lighten the load. Plus, I hate digging through big, heavy pipe wrenches and files that I never use in order to get the screwdriver, which always seems to be on the bottom. So I replaced the single large box with two smaller ones, putting the most-used tools in one box, and wrenches, pliers, and other, less-used tools in the second box.
Claw Hammer

Rubber Deadblow Hammer

Large Arc-Joint Pliers

Needle Nose Pliers

Vice Grips--Curved Jaw and Needle Nose

Slip-Joint Pliers

Bastard File

#2 Philips Head Screwdriver

#3 Philips Head Screwdriver

Slotted Screwdriver

Stubby Slotted Screwdriver

Stubby Philips Head Screwdriver

25' Tape Measure

Putty Knife

Small Philips and Slotted Screwdrivers (for those tiny screws on electronics and such)

Adjustable Wrench--Large and Small

Utility Knife

Serrated Knife

High Quality Hacksaw Frame with Spare Blades

Inexpensive Japanese Pull Saw

Plastic Miter Box (for use with pull saw)

Cable Cutters (For Rigging)

Large Pipe Wrench

Caulking Gun

SAE Combination Wrench Set, 1/4" - 15/16"

Metric Combination Wrench Set, 10mm - 17mm

Flexible Grab Tool (Push on the end, and a little set of jaws opens at the other end. Great for grabbing small items from tight spaces.)

Drill Bit Set, up to 1/2"

Allen Wrench Set

Cordless Driver/Drill w/Extra Battery and Charger, and Several Driver Bits and Holders

Prop puller (I finally got one--I've always hated not having one)

Filter wrenches
There's probably more, but this is what I can think of at the moment.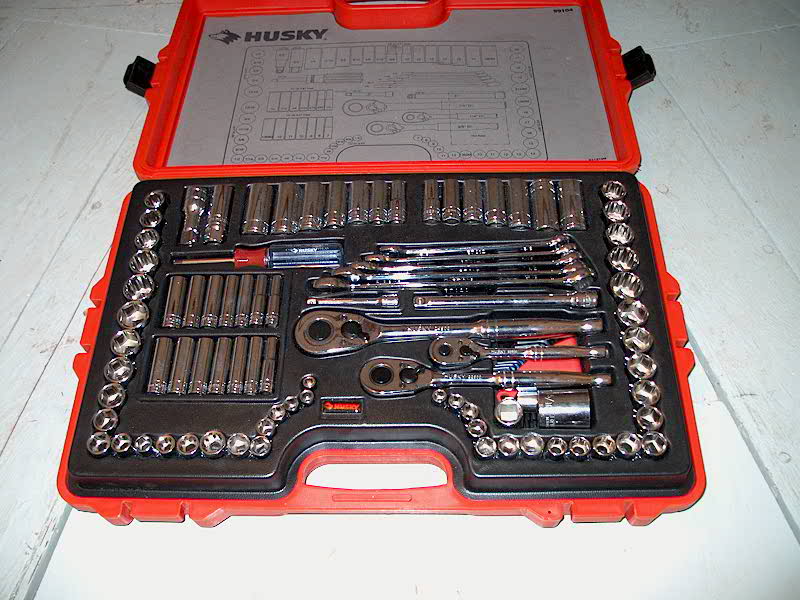 I purchased a pretty comprehensive socket and ratchet set at Home Depot--the Husky brand. The kit comes complete in a blow-molded case, which is handy to keep things organized and easy to find. It contains all sizes of SAE and metric sockets, in normal and deep well, with 1/2", 3/8" and 1/4" ratchets, along with a variety of extensions, adapters, and accessories. I won't bore you with the complete inventory (although if you're not bored yet you must be a kindred spirit incapable of absorbing too much inane information). If there are any specific sockets or wrench sizes that for some reason don't come with the kit, but are needed on board, I buy them. The case latches securely on three sides, and is fairly flat for easy storage.
Electrical Kit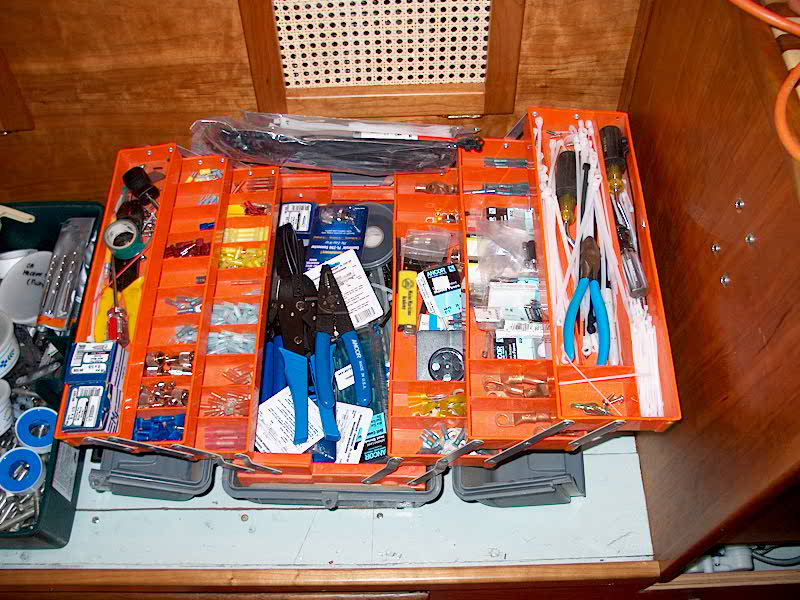 Has this happened to you? You're trying to sort out some minor electrical issue or another, or are wiring up some basic piece of equipment. You suddenly realize that you're missing ____________ (fill in the blank). It doesn't matter what the item is--a little connector, a piece of wire long enough for the job, or even a proper crimping tool: the job is over until you get the part you need. No thanks--I'll pass on this annoyance if at all possible. That's why I have attempted to put together a really good, well-stocked electrical kit. I keep a variety of primary wire on board, although most of my wiring is the same size, so I really need to keep only that size on board, and my large kit is filled with most of the connectors, tools, crimps, wire ties, fuses, bulbs, etc. needed to complete nearly any wiring job or repair. I say "most" because, even with my efforts, I usually find that there is some connector I am missing. When that happens, I buy more of that type than I need, and thus add to my inventory. Some of the items in my electrical kit include:
Ratcheting crimpers

Wire stripper/crimping tool (decent)

El-cheapo junkie wire stripper/crimping tool (just in case)

Large and small wire cutters

Stubby screwdriver for driving electrical connector terminal screws in tight places

Electrical tape

Heat shrink butt connectors, various sizes

Ring terminals of various sizes

Assorted other terminal ends (insulated spade, etc.)

Assorted fuses

Heat shrink tubing

Small butane torch and extra butane

Various wire ties and cable clamps

Battery cable crimpers and terminal ends

Coax crimpers

Spare PL-259 connectors

Spare Centerpin PL-259 connectors

Scratch awl (for creating pilot holes for cable clamp screws)

Other stuff that I'm surely forgetting
The electrical box fits under the starboard settee.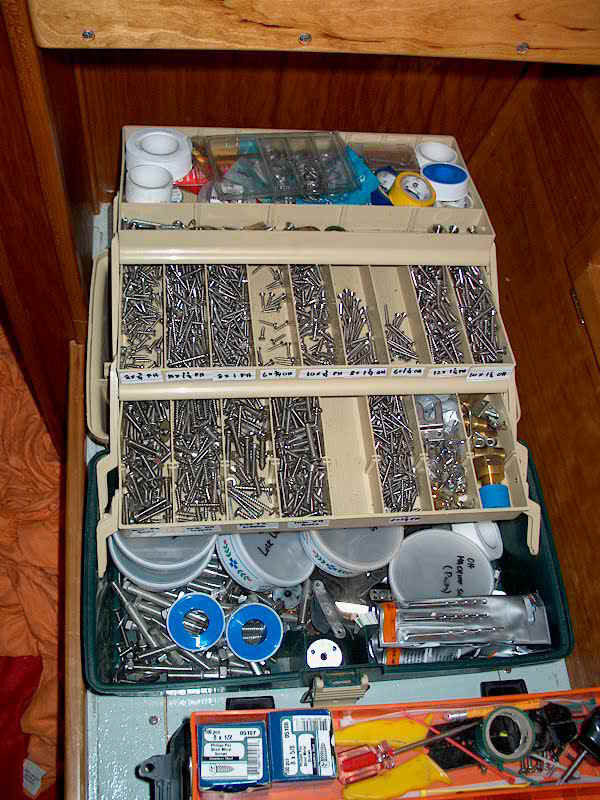 Fasteners are my nemesis, and I'm determined to build up my kit so that I have everything I need. It irritates me to run out of a certain screws, nut, washer or small bolt. Therefore, I typically buy these items by the box, so that I end up with extras for the kit. Similarly, I like to have plenty of spare rigging parts on hand too--cotter pins, cotter rings, clevis pins, rigging tape, etc. My attempted solution is to have this fairly large box on board, filled with as many things as I can.
In this kit, I keep a variety of stainless steel screws in the most common sizes I use, with a variety of heads--oval, flat, and pan head. I also have an inventory of machine screws, larger bolts, and nuts and washers of many sizes. I recently reorganized the kit to remove some old gear that had been in there, stuff that had no use on the boat now.
In addition, I use this box to hold some other minor spares that tend to accumulate--tape, Teflon tape for plumbing fittings, a drill and tap set (frequently used in conjunction with new fasteners), some small deck and rigging fittings (cleats, blocks, that sort of thing). I also have spare brass fuel line fittings and propane line fittings, plus a special adapter that allows us to connect one of the little camp bottles of propane to our main LPG system should our large tank run out.
The kit is far from complete, and with every project I add to it--leftover fasteners, different bolts, etc. While it is impossible to keep a perfect inventory on board, I hope that the contents of this kit would at least allow me to jury rig just about anything to get us out of a jam, or to help a fellow boater.
The fastener and rigging kit fits under the starboard settee.
This section is under construction, as I am only just beginning to build up the inventory. As I get new parts, I'll list them here. These are parts that I have deemed necessary or desirable to have on board for the type of cruising we do, or are planning to do. It's almost certainly overkill, but I'd rather be prepared than not.
Spare lid seal for Lavac toilet (1)

Spare seat seal for Lavac toilet (1)

Spare parts kit for Henderson Mk IV waste/bilge pumps (3 pumps on board--kit will fit any of them)

Racor fuel filter cartridges--primary 1 (2)

Racor fuel filter cartridges--primary 2 (2)

AWAB hose clamps, assorted sizes

Sheet gasket material

Various lengths of hose, several types

55-amp alternator (came with the engine; we replaced it with our high capacity alternator)

Engine half coupling

Drivesaver (left over from the old engine)

Engine wiring harness

250-amp fuse in electrical system (see the schematic for location)

Spare raw water pump impellers (2); Globe Nitrile # BRC-06541
Other spares that we're collecting, or preparing to collect, include:
Raw water impellers.

Secondary fuel filters

Air cleaner elements

Oil and oil filters

Spare gaskets for impeller, oil filters, sacrificial zincs, thermostat

Spare wire for longest piece of rigging on board, along with Stalok terminals

Spare turnbuckle

Thermostat for engine

Engine zincs

Fuel line copper washers (for banjo fittings)

Alternator and water pump belts
More to come. This is the list as I can think of it now.