2007 Maintenance Digest

9/17/07
Haulout. Full log posted.
---
10/6/07
In what ought to be a familiar ritual to all, I winterized the engine and water systems on board today, and completed unloading whatever else needed to be unloaded.
I had trouble getting the engine to draw water (and later antifreeze) from my bucket, forcing me to prime the hose. When I disassembled the raw water pump later for cleaning, inspection, and storage, I was quite surprised to discover that the impeller--a new Nitrile impeller that I'd installed in the spring--had shed one blade completely, with a second one hanging on by a thread. No wonder I couldn't get it to self-prime. I found the shed blade inside the outlet hose.
---
10/13/07
Taking advantage of a pleasant, wind-free late afternoon, I installed the winter framework and cover, and removed the batteries for storage. The boat needs some cosmetic maintenance, but I knew better than to even attempt varnish work and related tasks in October. Better to wait till spring...or, with luck, to sometime over the winter when I might possibly find some time to slide her into the shop for some much-needed cosmetic attention. My poor boat hasn't been inside since 2003, and she still hasn't completely recovered from last year's summer of non-use. She needs some attention and minor upgrades.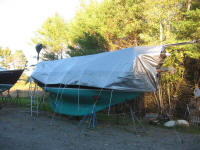 Here's the to-do list (or to-buy/replace list) for this off-season, at least so far.

1. New anchor rode (to replace the one broken by Wanaka during the cruise this year)
2. Replace masthead light
3. Lengthen the backstay
4. Buy new chart #13305
5. Replace, or otherwise troubleshoot, radar cable
6. Finally replace jibsheets with a single length to eliminate annoying knots at cringle
7. Varnish, of course
8. I'd love to repaint the hull--probably not this winter, but it's in the back of my mind.
9. The nonskid needs to be redone
10. A variety of sewing/canvas repair tasks required
11. Replace lifelines

Continue to the 2008 Maintenance Log>>>