Glissando Moves On: September 2011

Nothing is forever. But this is not goodbye.

However vague the concept may have seemed over the years, I always knew that the day would eventually come when we'd sell Glissando for one reason or another. From the moment we made a decision in 2004 to purchase another project boat for our own use (the 1964 Allied Seabreeze #16--now sold as well, for reasons I described here), it seemed relatively clear that one day--some indeterminate day, but one day nonetheless--we'd end up selling Glissando.

In 2010, when we changed course rather dramatically and elected to purchase a 1976 Fisher 30 motorsailer to restore instead of the Seabreeze, reflecting our personal changes and changes in how we used our boat, I thought long and hard about the future of Glissando and how she might fit in with things going forward. I hated the idea of selling her, as we were very attached to the boat and had had many wonderful times aboard. She was, and always will be, special to me and my wife, Heidi. But I also knew that I didn't need, nor want, two boats of similar size and complication, with the miasma of maintenance and upkeep costs and time constraints.

So with our new project streaming along with alacrity, at some point I determined that I'd probably choose to sell Glissando after the 2011 season, so I could focus time and resources on completing the motorsailer project, even though I doubted I'd have the project complete by 2012 (currently, completion is anticipated in time for the 2013 season). We entered the season knowing that it might be our last with Glissando, but it still seemed a rather vague concept somehow.

I found myself badly torn all summer long. With limited free time, it was difficult to decide on a weekend whether to go sailing, or work on the project. Time and again I found myself choosing the project, which seemed to reinforce where my current enthusiasm lay. Somewhere in there we enjoyed several weekends aboard Glissando, had a last week-long cruise, and a number of daysails and other visits. So, with the end of the season fast approaching anyway, in late August I prepared a detailed listing and posted an advertisement for the boat on this site, thinking I'd get the process underway and start spreading the word. I hoped there'd be some interest.

Within two days, she was sold (or at least we had a verbal agreement in place). I was amazed. And pleased. And terribly sad. I cried.

I won't divulge details of the sale or new owner, except to say that it sounds like Glissando is going to an excellent new home, with caring owners. She is going to the west coast, to Washington and the San Juan Islands--a beautiful spot, and I found myself envying the boat for her new adventures.

Of course, the weekend that I reached the agreement to sell, Hurricane/Tropical Storm Irene blasted up the eastern seaboard, threatening all marine and inland interests. I was more nervous about the boat than I would have been just for my own purposes; fortunately, no issues arose from the storm.

Afterwards, with a fairly aggressive schedule for completing the sale and preparing the boat for her long journey over land, I made plans to bring the boat down to Rockland to the boatyard for haulout. I completed the delivery on September 7, my last sail aboard. It was melancholy, to say the least, but despite ragged weather I managed to enjoy one last sail, with (for once) a favorable wind and tide making the trip relatively enjoyable under the circumstances. I completed the 22-mile trip in just under four hours, which was record time.

Once at the dock, I went through the usual motions of stripping off sails and canvas, and removing the various control lines, mast wiring, and boom. Everything was wet thanks to the persistent rain, so I'd have to bring everything home to dry it out over the weekend when fair weather was forecast.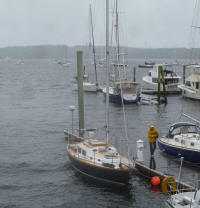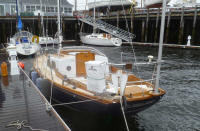 I returned the next day and found Glissando had been hauled, which was good to know. It made me sad to think she'd not soon be showing up in my dooryard as usual. With the weekend coming up, I had a big job ahead to remove our personal gear and get the boat ready for her long trip cross-country later in the month.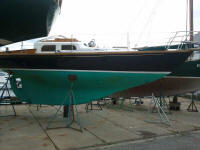 I returned on a glorious Saturday, one of those perfect September Maine days with almost artificially blue skies and water. I spent a good part of the day going through the boat and removing personal gear, and cleaning up the interior. I filled the backseat of my truck to the roof, plus the pickup bed, plus the passenger seat.

Afterwards, I prepared the boat as much as possible for her transport, stowing things securely inside, wrapping the boom and stowing it inside the boat securely, and various other tasks. I'd planned to disassemble and wrap the mast, but the yard had already removed the standing rigging, spreaders, etc (I didn't ask them to), and I couldn't locate the mast at the yard. Being a Saturday, there was no one around, but since the rigging was off and safely in the boat, I felt OK with the situation, though I'd have preferred if I could have done what I'd told the owner I would do. Instead, I notified the new owner to ensure that the mast would end up with the boat when his hauling company arrived in a few weeks.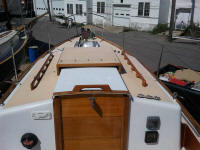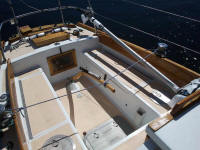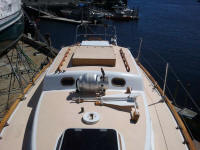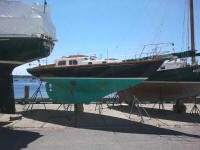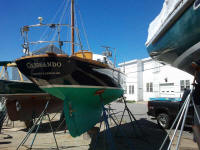 I said my good byes to the boat, locked her up, drove away. To say the feeling of leaving for the last time was odd would be a ridiculous understatement, but there you are. I'll miss her terribly, but, not being one to dwell on the past, I looked forward instead to the new adventures ahead. Glissando will always hold a very special place in our hearts.

This website will remain online indefinitely, but this page represents my final update about Glissando. The sale is complete, and now belongs to someone else.

While our new boat may be from a different genre and taking us in a different direction, please feel free to follow along with the project, as I think you'll enjoy it. Much has already been accomplished, and there is still much to come.

Fisher 30 Project Website

More Websites to Choose From

Thanks for reading all these years. While I've moved on to a different boat, my focus and dedication to quality old boats of all types remains as firm as ever. Glissando is the boat that started it all.